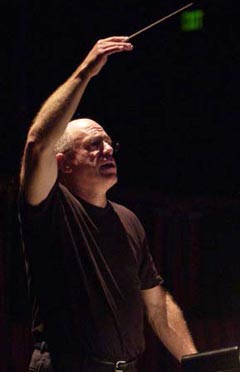 PETER JACOBY has distinguished himself as a visionary musical thinker, as a proponent of innovative programs challenging musicians and new audiences, and as an expert conductor comfortable in diverse repertoire ranging from Handel to Puccini, from Bruckner to Argento. As an opera music director, he has prepared orchestras and casts for over seventy fully-staged productions in original languages. As one dedicated to his art form, he has used his keen business acumen and persuasiveness to raise well over $2mm for programs and stipends, while continuing to mentor young singers, coaches and conductors over the breadth of his career.

He is equally at home in the traditional as well as the contemporary, whether initiating and guiding projects which reinvent standard musical praxis, as in orchestrating and translating accompanied recitatives for Weber's Der Freischütz, or collaborating along side award-winning composers in their reworking of scores for revised premieres, as for Carlisle Floyd's Bilby's Doll and John Corigliano's The Ghosts of Versailles.

He is a secure, no-nonsense conductor, level-headedly able to bridge orchestral demands with vocal and theatrical staging realities, and to resolve conflicts arising naturally among a variety of talent levels and the professional egos of directors and singers alike. One of the last students of the indomitable Hans Swarovsky in Vienna, he is likewise an accomplished pianist. He performs regularly in chamber ensembles and as a vocal artist accompanist in concert, and to that end, believes strongly it is only possible to inspire and lead other musicians by being fully engaged in ongoing, personal music-making himself.